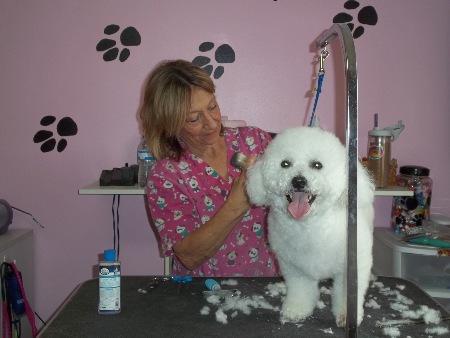 Geri Silvestri relocated to Ocala from Massachusetts in 2001. Shortly thereafter she opened Sit-N-Pretty pet grooming and has been successful and growing ever since. Sit-N-Pretty has the combined experience of 30 years in the grooming business with Geri having 18 years experience and additional groomer, Mandy Williams having 12 years experience. At Sit-N-Pretty pets are allowed to roam free, socialize and play and are not kenneled. The staff at Sit-N-Pretty treats the pets as if they were their own. Geri believes that this is what her customers like best about her shop. In addition to the staff being very patient grooming puppies, they are very attentive to the special needs of the geriatric pets. Sit-N-Pretty offers a variety of services from a full groom to teeth brushing, bath and brush outs, flea treatment, dematting, nail filing or just a simple nail trim. As well as pet sitting services.
Vicki Trent, the grooming assistant and receptionist, will be glad to answer any of your questions and help with your appointment needs.

Sit-N-Pretty opens at 9 AM daily and is closed on Wednesdays and Sundays. And is located at 7763 SW HWY 200 in Ocala.
Give Sit-N-Pretty a call at 352-854-5654 YOUR PETS WILL BE GLAD YOU DID!